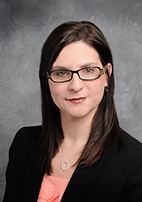 Angela Verrecchio
Angela Verrecchio
t

+1 215.965.1286

f

+1 215.965.1210
Angela Verrecchio's practice focuses on patent litigation, but also includes patent prosecution, client counseling and opinion work. Ms. Verrecchio's practice encompasses a variety of technologies, including complex biotechnology and chemical inventions, such as monoclonal antibodies and pharmaceuticals, and medical devices, such as surgical sutures, surgical staplers and blood glucose monitoring devices. Ms. Verrecchio also has significant experience representing clients in ANDA litigations.
Practice & Background
Ms. Verrecchio has significant trial experience. Most recently, she was part of the trial team that secured a jury verdict for Janssen in a patent case involving therapeutic antibody technology. The jury returned a verdict for the defendant finding the asserted claims invalid for obviousness, lack of written description, and lack of enablement. She was also a member of the trial team that won a $1.67 billion verdict on behalf of Centocor Ortho Biotech, Inc. and New York University, in the Eastern District of Texas. That case involved an infringement suit against Abbott Laboratories for its blockbuster drug Humira®. The jury returned a verdict finding the patent-in-suit willfully infringed and not invalid. Bloomberg reported the $1.67 billion verdict as the largest patent jury verdict in U.S. history. Ms. Verrecchio is also currently representing multiple defendants in ANDA litigation involving a narcotic pharmaceutical product.
Ms. Verrecchio has a solid grounding in science, with a B.S. in biochemistry from the Philadelphia College of Pharmacy and Science (now the University of the Sciences in Philadelphia) and a M.S. in biomedical chemistry from Thomas Jefferson University. While pursuing her graduate degree, Ms. Verrecchio served as a research technician at Thomas Jefferson University's Cardeza Foundation for Hematologic Research.
She is an active member of the Philadelphia Intellectual Property Law Association and currently serves on its executive committee as president.
Representative Matters
Ms. Verrecchio's recent engagements include representing:
a major biotechnology company in two ongoing litigations relating to therapeutic antibodies
a drug manufacturer in ANDA litigation relating to extended release oxycodone.
Awards & Accolades
recognized by Best Lawyers in America as a leading practitioner in the area of intellectual property litigation in 2014 - 2016
named "Rising Star" in the field of intellectual property litigation by Philadelphia magazine in 2008, 2010, 2011 and 2012.
Speaking Engagements
Structuring and Negotiating Patent Litigation Settlements, Association of Corporate Counsel Greater Philadelphia/Delaware Valley's Intellectual Property Law CLE Institute, July 15, 2015
CAFC Litigation Review, Philadelphia Intellectual Property Law Association's 26th Annual Review of the Intellectual Property Decisions of the U.S. Court of Appeals for the Federal Circuit, May 2011.