Chadi A. Salloum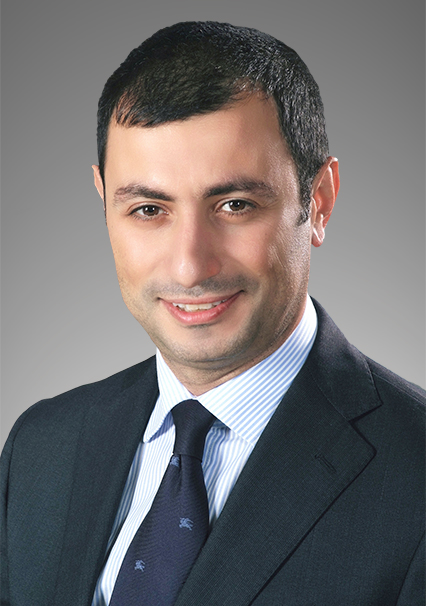 Chadi A. Salloum
Chadi A. Salloum
t

+971 2.406.8580

f

+971 2.406.8511
Chadi A. Salloum serves as the co-partner in charge of the Abu Dhabi office and oversees Akin Gump's Middle East practice. His practice focuses primarily on mergers and acquisitions, securities law and general corporate law matters.
Practice & Background
In 1999, Mr. Salloum was a law clerk for the Honorable Julius A. Isaac, Chief Justice of the Canadian Federal Court of Appeal.
Mr. Salloum has experience representing sovereign entities, multinational companies, regional utilities and financial institutions in a broad range of transactions, including corporate commercial, mergers and acquisitions, joint ventures, restructurings, projects, renewable energy projects, private equity, privatizations, spinoffs, strategic alliances, tender offers, initial public offerings, rights offerings and private placements of equity, equity-linked and debt securities. In addition, Mr. Salloum advises clients with respect to regulatory and governance matters and reporting obligations.
Mr. Salloum has authored a client alert "A New Companies Commercial Law for the United Arab Emirates" with Abu Dhabi partners Natasha Kohne and Wael Jabsheh.
Representative Matters
Mr. Salloum's engagements include representing:
a major utility in the U.A.E. in the development and financing of the largest solar project in the world
a joint venture between a government-related entity in the Emirate of Abu Dhabi and a global power and gas company on its investment in a carbon abatement project in Central Asia and conversion of power plants from single to combined cycle in the GCC
a major utility in the U.A.E. in corporate commercial, government procurement, policy and regulatory matters such as EPC, interconnection, cooperation and strategic alliance, gas supply, power transmission and service agreements, asset transfer transactions, smart-grid and renewables initiatives and corporate governance
a government-related entity in the Emirate of Abu Dhabi on the purchase of a leisure facility and related infrastructure valued at US$3 billion
the manager of an international motorsports venue in the GCC in connection with the promotion, production, hosting and implementation of numerous international motorsports and other live events
leading international investment and advisory firms in relation to the marketing of funds, private placements and related regulatory requirements and restrictions in the U.A.E., Qatar, Saudi Arabia, Oman and Kuwait
an investment bank in Bahrain in its acquisition of an equity stake in an industrial laundry outsourcing company in Italy and the formation of a joint venture for the implementation of an industrial laundry project in the U.A.E.
a government-related investment entity in the Emirate of Dubai on its agreements with international designers for a lifestyle project located on an iconic development in the Emirate
a producer of prefabricated buildings in Italy in the formation of a joint venture with a construction company in Saudi Arabia for the design, manufacturing and distribution of prefabricated concrete products
a European appliance manufacturer in its distribution arrangements in Oman
a consulting and research company in connection with its collaboration agreements with an advisory firm operating in the Middle East and North Africa (MENA) region
an investment bank in its placement of equity-linked securities exchangeable into shares of a European financial conglomerate with institutional investors, including sovereign entities in the MENA region
a European producer and distributor of electricity in its multibillion-Euro sale of a mobile operator in Italy to an investor and a controlling shareholder of an international telecommunications company operating in the MENA region and Asia
an engineering, construction and technology services company in the review and ensuing reorganization of its operations in Libya
a European banking institution on its €1 billion rights offering
a global commercial lottery and gaming operator on its €750 million and €500 bond offerings and their listing on the Luxembourg Stock Exchange's Euro-MTF Market
a European management consulting company on its acquisition of a U.K.-based consulting firm focused on media and telecommunications
a European media company on its sale of an equity stake in a publicly listed Spanish media company and its €300 million bond offering
a global aerospace, defense and security company in connection with US$1.3 billion offerings by its subsidiary of guaranteed notes and its €1.2 billion follow-on equity offering
a European banking institution on its €5 billion follow-on equity offering and its €2 billion bond offering
a real estate investment trust in Italy on its €230 million offering of convertible bonds and its €150 million initial public offering
a global real estate, travel and hospitality company on the management buyout of its membership-based provider of consumer services
a global retailer of athletic footwear, apparel and accessories on a leveraged buyout of its gift and collectibles retail business
a US energy provider on the capital markets financing of its multibillion-dollar acquisition of a major power generation firm active in the Southern United States
a global banking and financial institution on the US$4.6 billion initial public offering of its property and casualty insurance business and related restructuring and intercompany arrangements, as well as on its spin-off of such business to its shareholders
a publicly traded developer and supplier of mobile satellite communications services on the self-tender offer of its common stock
a global investment banking firm on its sale of institutional business assets to a banking group operating in the Southern United States.
Awards & Accolades
Ranked in Chambers Global (2016 - 2017) for Corporate/Commercial & Commercial Contracts – U.A.E.; "has an impressive practice advising on energy projects and investment matters"; clients say he is "a great pleasure to work with and combines depth of knowledge with dedication"
Ranked in Chambers Global (2014 – 2016) for Corporate/M&A – U.A.E.; clients say he is "highly responsive, conscientious and deeply committed to client service, with very solid analytical skills and a strategic approach"
Recommended in The Legal 500 Europe, Middle East and Africa (EMEA) (2013 - 2017) for Commercial, Corporate and M&A – U.A.E.; clients say he combines "solid legal and business judgment with very strong analytical and negotiating skills"
Recommended in The Legal 500 EMEA (2017) for Energy and Infrastructure – U.A.E.
Languages
Arabic
English
French
Italian