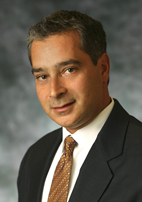 Kenneth J. Markowitz
Kenneth J. Markowitz
t

+1 202.887.4513

f

+1 202.887.4288
Kenneth J. Markowitz is the senior clean energy and environmental consultant to the firm. He advises leading public- and private-sector clients on a comprehensive range of energy policy, law and regulatory issues in relation to economic growth, energy security and environmental stewardship, both domestically and internationally.
Practice & Background
Mr. Markowitz advises a broad range of clients on renewable energy, renewable fuels, energy efficiency, and energy, clean air and other environmental regulation. He has demonstrated a record of success for our clients working through complex regulatory programs implemented by DOE, EPA and USDA. He has extensive experience with EPA's Renewable Fuel Standards program and the Corporate Average Fuel Economy (CAFE) regulations. He has extensive experience with DOE and USDA loan guarantee programs. Ken works on energy efficiency issues across multiple legislative and regulatory platforms, including energy use and conservation in buildings, consumer and commercial products and appliances, transportation systems, and other processes and controls, including with voluntary programs such as Energy Star. Mr. Markowitz advises clients on USDA loan guarantee and regulatory programs, including with the Bio-Preferred and the Biomass Crop Assistance programs.
Mr. Markowitz has actively participated in the United Nations Framework Convention on Climate Change negotiations on issues including the Green Climate Fund, the Clean Development Mechanism and technology transfer.
Mr. Markowitz is the Managing Director of the International Network for Environmental Compliance and Enforcement (INECE), a trans-governmental network from over 120 countries. In addition to his emission trading work, he has led capacity building projects for prosecutors and judges, compliance and enforcement indicators, hazardous waste and port security, fresh water governance and other programs. Mr. Markowitz leads an international initiative among regulators, business and international organizations to strengthen compliance, improve investor confidence and ensure environmental integrity in the emissions trading systems.
Mr. Markowitz has assisted governments around the world to strengthen rule of law and build stronger environmental governance systems through performance measurement, adaptive management and public-private partnerships. He has advised countries including the Netherlands, the United Kingdom, Canada, Germany, Brazil, Australia, Argentina, Kenya, South Africa, Morocco, Jordan, Egypt, Japan, Thailand, Vietnam, Philippines, Costa Rica and elsewhere. He helps clients navigate the United Nations Environment Programme, the European Commission, the World Bank and the Organization for Economic Cooperation and Development (OECD) systems. He has counseled clients on international environmental agreements such as the Montréal Protocol on Substances that Deplete the Ozone Layer, the Convention on Biological Diversity, the Basel Convention and CITES.
Mr. Markowitz previously served as a senior attorney at U.S. EPA, where he received national recognition for his work on emergency response and oil spill prosecution, and in private practice as an environmental lawyer, counseling corporate and municipal clients in over 30 states on air, water, petroleum, waste and toxics. He served on the Commonwealth of Virginia's Emission Trading and Banking Group, advising the Commonwealth on the design and development of sulfur dioxide and nitrogen oxide emission trading programs in the early 1990's.
Mr. Markowitz his J.D. in 1989 from American University's Washington College of Law, where he was a dean's fellow in corporate tax and an editor of the Journal for International Law and Policy. Mr. Markowitz serves on the adjunct faculty of the Washington College of Law and as a senior fellow at the University of California, Santa Barbara Bren School of Environmental Science and Management. He is also the founder and President of Earthpace LLC, a global consulting and advisory services firm.
Representative Matters
Mr. Markowitz's recent representations include:
assisting client with successful application for a DOE Advanced Research Projects Agency (ARPA-e) grant for carbon capture and sequestration
negotiating resolution for treatment of security and surveillance systems in the DOE's consumer electronics programs
representing a farmer in successful administrative proceedings before the United States Department of Agriculture involving issues under the Biomass Crop Assistance Program to recover matching payments.
Community Involvement
Mr. Markowitz is involved in community, civic and charitable activities that include:
River Falls Community Center Association, Board of Governors, president
International Union for the Conservation of Nature, Commission on Environmental, specialist group on compliance and enforcement, chair
American Bar Association, Clean Tech and Climate Change Committee, founding co-chair (2009-2011).
Speaking Engagements
Justice and Governance for Sustainable Development, World Congress for Law, Rio de Janeiro, Brazil, June 2012
Connecting Regional Initiatives, Australian Environmental Law Enforcement and Regulators Network, Darwin, Australia October 2011.