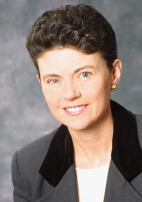 Mary L. O'Connor
Mary L. O'Connor
t

+1 214.969.2818

f

+1 214.969.4343
Mary L. O'Connor's practice focuses on representing public companies and their officers and directors in securities litigation, internal investigations, and regulatory investigations and enforcement proceedings.
Practice & Background
Ms. O'Connor has served as lead counsel in securities class action cases and shareholder derivative claims, including merger litigation. She also has extensive experience in securities industry arbitration and has represented a wide range of clients, including investment funds, in enforcement matters.
Ms. O'Connor is the leader of the Dallas office diversity committee, and she also sits on the firm's diversity committee.
Ms. O'Connor joined Akin Gump in 1983 and has been a partner since 1990. She received her B.A. summa cum laude in political science from Bryn Mawr College in 1979 and her J.D. from Stanford Law School in 1983. She is a member of the State Bar of Texas, the Dallas Bar Association, the Texas Bar Foundation and the Dallas Bar Foundation.
Representative Matters
Ms. O'Connor's recent engagements include representing:
an Ohio-based manufacturing company in aSecurities and Exchange Commission (SEC) investigation of fraudulent accounting practices by the vice president for finance of one of its subsidiaries
a publicly traded insurance holding company and its board of directors in derivative litigation arising from the proposed acquisition of the company by a major professional liability insurance company
a leading provider of nutritional supplements in a shareholder class action, shareholder derivative and Texas attorney general litigation related to marketing practices of the company's independent sales associates
the former CEO of a public company in an SEC enforcement action based on the company's alleged improper recognition of revenue for software sales and services
the former CFO of a publicly held distribution company in shareholder class actions, litigation by the trustee of a liquidating trust for creditors of the company and an SEC enforcement action arising from alleged improprieties in accounting for vendor incentives
the chairman of the board of a publicly owned financial services company in NASD arbitration proceedings brought by individual customers of an introducing broker
the audit committee of a New York Stock Exchange-listed distributor of brand-name consumer products in an investigation of alleged irregularities in accounting and disclosure practices.
Awards & Accolades
named one of the "Best Lawyers in Dallas" by D Magazine in 2012
ranked in Texas Super Lawyers.