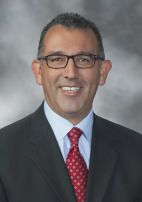 Michael J. Brito
Michael J. Brito
t

+1 214.969.2822

f

+1 214.969.4343
Michael J. Brito has a broad range of experience representing clients in a wide variety of technology transactions.
Practice & Background
Mr. Brito has significant experience in structuring, negotiating and drafting various types of agreements for complex technology transactions in the United States, Europe, Latin America and Asia Pacific, including global information technology and business process outsourcing agreements, telecommunications outsourcing agreements, cloud computing and cloud services agreements, software development agreements, supply chain management agreements, licensing and marketing agreements, joint ventures, strategic alliances and teaming relationships. He has also been actively involved in various e-commerce transactions and enterprisewide software licensing agreements (e.g., enterprise resource planning systems).
Mr. Brito is a member of the State Bar of Texas, the Dallas Bar Association, the Texas Bar Foundation and the Dallas Bar Foundation.
Representative Matters
Mr. Brito's recent engagements include:
information technology and business process outsourcing agreements in various industries, including automotive, financial services, industrial/manufacturing, insurance, retail, telecommunications and utilities
joint development, marketing, collaboration and distribution agreements
enterprisewide software licensing agreements
restructuring of outsourcing agreements and resolution of disputes in software development, marketing and web-hosting agreements.
Community Involvement
Mr. Brito's community, civic and charitable activities include being a member of the board of directors of the World Affairs Council – Dallas (2012).
Awards & Accolades
nationally recognized leader in the field of outsourcing by Chambers USA (2006 – 2014)
recognized in Chambers Global as a leader in the field of outsourcing in 2009 – 2013
received the 2012 International Law Office Client Choice Award for Information Technology
recommended nationally in outsourcing by PLC Which Lawyer? Yearbook in 2008 and 2009
recommended in The U.S. Legal 500 for technology/outsourcing in 2010 and 2011.
Speaking Engagements
Structuring, Negotiation and Governance, Practicing Law Institute (PLI), Outsourcing 2010 (New York)
(PLI, Outsourcing 2011 (New York)
Cloud, Innovation and Other Hot Topics, PLI, Outsourcing 2012 (New York)
Emerging Issues in Technology and Outsourcing Transactions, SMU Corporate Counsel Symposium, 2012.
Languages
Spanish