Pavel Yurievich Kabatov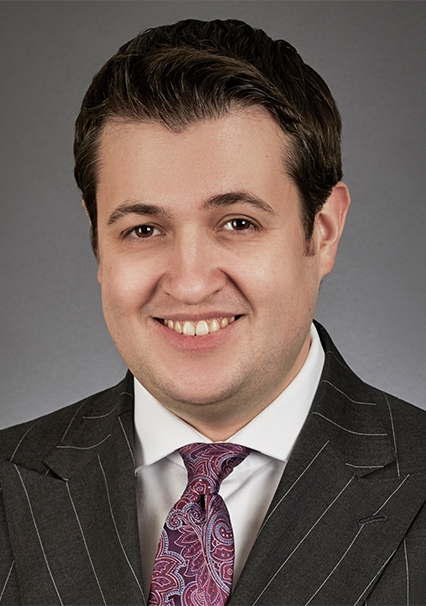 Pavel Yurievich Kabatov
Pavel Yurievich Kabatov
t

+7 495.783.7848

f

+7 495.783.7701
Pavel Y. Kabatov is a counsel in Akin Gump's Moscow office. Mr. Kabatov has more than 12 years of experience in all aspects of M&A and joint venture projects, with an emphasis on assets located in the Russian Federation and CIS.
Practice and Background
Mr. Kabatov's practice focuses on general corporate matters, real estate, anti-monopoly and securities regulations.
Mr. Kabatov advises major Russian oil and gas companies, real estate development groups, telecommunication companies, diversified holdings, private equity groups and a number of international clients on their most important strategic projects in Russia and CIS countries.
Mr. Kabatov has significant experience creating legal strategies for complex international commercial litigation cases. He collaborates on a regular basis with our London litigation and international arbitration team.
In addition, Mr. Kabatov regularly works on complex due diligence for a number of leading Russian companies in the oil and gas, power generation and distribution, telecommunication, publishing and other sectors.
Representative Matters
Mr. Kabatov's engagements include representing:
Corporate/M&A
Renova, (a leading private business group)

as a member of the Alfa-Access-Renova (AAR) consortium, in relation to the sale of AAR's stake in TNK-BP to Rosneft for an all-cash consideration of US$28 billion
on the sale of 100% of shares in its logistics and storage business, Multinational Logistics Partnership (MLP), one of Russia and Ukraine's largest and most successful logistics operators and on the consolidation of Renova's shareholding in MLP
on a sophisticated transaction (including internal funding, swap and collateral agreements between Renova and Access) relating to the $800 million acquisition of shares in major Russian electricity producers TGK-6 and TGK-7 with the Russian state run electricity generation giant Inter RAO UES as the deal counterparty

one of the largest Russian metallurgical holdings in its over US$1 billion acquisition of a mining and processing complex
MMC Norilsk Nickel in the swap of MMC Norilsk Nickel's stake in OGK-3 for a stake in Inter RAO UES
a Russian investment group in connection with a sale of controlling stake in Kolmar group of companies (coal mining facilities) to Gunvor
a Russian private equity group in connection with a sale of its interests in two uranium mining projects in Kazakhstan to Atomredmetzoloto
AFK Sistema and Bashneft, a leading Russian oil and gas company, on a joint venture with Intrtrans in relation to rail cars
a Russian diversified holding in its more than US$500 million acquisition of blocking stake in an investment fund which owns major stakes in a number of leading Russian Internet sites
one of the largest Russian telecommunication companies in its US$230 million acquisition of a regional mobile operator
Detsky Mir, the leading retailer and wholesaler of children's goods in Russia, on the acquisition of Early Learning Centre franchise stores in Russia
one of the largest Russian diversified holdings in its US$48 million acquisition of a large Russian publishing house
a Russian private equity group in connection with a sale of a highly-rated Mongolian bank and associated debt for more than US$45 million
Oil & Gas
Statoil, the Norwegian oil and gas company, in a joint venture with Rosneft to assess the feasibility of commercial production in Samara region
one of the largest Russian oil and gas companies in its US$1 billion Eurobond offering
one of the largest Russian oil and gas companies in its US$787 million acquisition of a number of oil production companies located in Khanti-Mansiyskiy Autonomous Region
Real Estate
a Russian investment group in connection with a sale of an office complex in central Moscow for more than US$500 million
a Russian development group in connection with a sale of its two Moscow development projects in consideration for its debt settlement
a Russian development group in its EUR90 million acquisition of a stake in a holding company which owns certain rights in relation to land and buildings located in Moscow
Representing a shareholder of a Russian company – owner of one of the large retail complexes – in the development of an international litigation strategy in connection with misappropriation of the shareholding in the above company
Awards & Accolades
The Best Lawyers 2017-2018 – ranks among top Mergers and Acquisitions lawyers in Russia
Languages
Russian
English