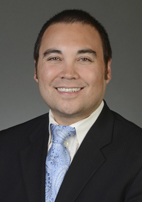 Wesley D. Markham
Wesley D. Markham
t

+1 212.872.8052

f

+1 212.872.1002
Wesley D. Markham is a member of the firm's intellectual property practice, and his work encompasses all aspects of intellectual property litigation.
Practice & Background
Mr. Markham recently represented a leading online social gaming company in a patent infringement jury trial in the Eastern District of Texas.
Prior to joining the firm in 2013, Mr. Markham served as a law clerk to the Honorable Pauline Newman of the U.S. Court of Appeals for the Federal Circuit (2012-13), and the Honorable Legrome Davis of the U.S. District Court for the Eastern District of Pennsylvania (2011-12). Mr. Markham earned his J.D., magna cum laude, from the NYU School of Law in 2011, where he was a Lederman/Milbank Fellow in Law, Economics, and Business; a Pomeroy Scholar; and a Butler Scholar. Upon graduation, Mr. Markham received the George P. Foulk Memorial Award for Outstanding Sincerity and Distinguished Scholarship, as well as the Walter J. Derenberg Prize for excellence in copyright law.
Prior to law school, Mr. Markham was a patent examiner with the United States Patent and Trademark Office from 2001 to 2006, and later a competitive intelligence research specialist for a large intellectual property law firm. Mr. Markham earned a B.E. in Chemical Engineering and Chemistry from Vanderbilt University in 2000, where he graduated number one in his class.