Jennifer L. Richter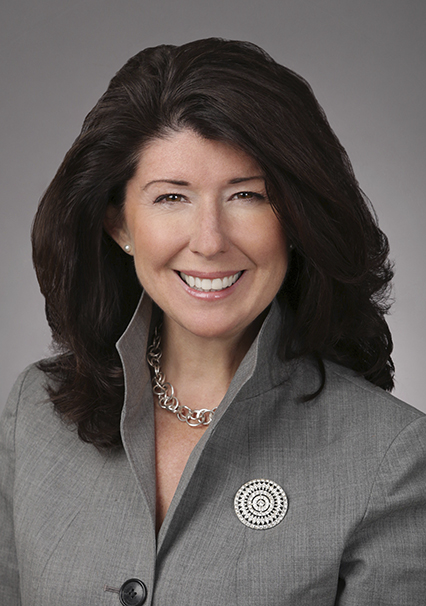 Jennifer L. Richter
Jennifer L. Richter
t

+1 202.887.4524

f

+1 202.887.4288
Jennifer L. Richter has represented technology and communications companies and investors for more than two decades. According to Chambers USA, which ranks her as a leading lawyer in telecommunications, "she receives acclaim for her 'encyclopedic knowledge of FCC regulatory issues,'" and she has been named a Super Lawyer for communications law. She brings years of in-depth experience in the communications field to her clients in the industry. She possesses an insider's knowledge of the business, gained while serving as the vice president and general counsel of a wireless communications company that she helped to build and sell to Sprint Corporation. She is recognized for exceptional depth in wireless broadband spectrum transactions and wireless regulation, representing clients who are deploying wireless broadband networks and developing wireless broadband technology.
Ms. Richter represents a variety of communications and technology companies in regulatory, transactional, policy, bankruptcy and general corporate matters, as well as the pursuit of federal funding opportunities. She often appears before the Federal Communications Commission (FCC), the National Telecommunications and Information Agency (NTIA), the Rural Utilities Service and Congress.
Ms. Richter is a member of the firm's regulatory practice steering committee.
Practice & Background
Issues on which Ms. Richter advises clients include wireless transactions and wireless policy; regulatory and compliance matters; air-to-ground services and in-flight broadband; tower and infrastructure development; the Universal Service Fund, and E-rate modernization, including significant work with service providers and schools that participate in the E-rate program; connected healthcare; educational technology and digital education; the nationwide First Responder Network ("FirstNet"); unmanned aerial systems/vehicles (also known as drones); broadcast incentive auctions; device and technology licensing; and Internet Service Provider (ISP) regulatory compliance and diligence.
Ms. Richter also negotiates and advises technology and communications companies, and their investors, on a wide range of industry-specific agreements, including spectrum acquisitions, spectrum leases, service agreements with major carriers, wholesale access agreements and program affiliation agreements (including retransmission consent and must-carry agreements), roaming agreements, backhaul agreements, partnering agreements, joint build and construction agreements, virtual network operator agreements, customer agreements, outsourcing agreements, collocation and tower agreements, microwave relocation agreements, supply agreements and fiber optic indefeasible-right-of-use (IRU) agreements. Her clients span the communications and technology sector and include online retailers, wireless broadband carriers, educational technology companies, airlines, broadcasters, ISPs, tower companies, defense contractors, device manufacturers, foreign governments, real estate developers, cable companies/multichannel video programming distributors, data centers and fiber optic/backhaul companies.
Prior to joining Akin Gump, Ms. Richter was a partner at another international law firm, where she led the technology and communications practice. Ms. Richter clerked for Commissioner Julie Carnes of the U.S. Sentencing Commission and also for the Media Bureau of the FCC.
Awards & Accolades
Chambers USA, Telecom, Broadcast & Satellite - District of Columbia (2012-2017)
Cablefax, Top Lawyer Award (2017)
Washington, D.C. Super Lawyer (2013-2017)
Speaking Engagements
Speaker, "A Beginner's Guide to Spectrum Policy," 2018 FAA UAS Symposium, Baltimore, MD, March 8, 2018
Panelist, "Investing in Innovation – Who is Developing the Next Game-Changers in the TMT Space?," TMT Finance World Congress Conference, London, UK, November 29, 2017
Speaker, "The Full Spectrum: Multi-Agency PPP," Air Traffic Controller's Association's 62nd Annual Expo at the Gaylord Resort and Convention Center, National Harbor, MD, October 16, 2017
Speaker, "3D Wireless: The Promise and Challenges of Next-Generation Space and Airborne Wireless Systems," Silicon Flatirons Conference, Boulder, CO, October 4, 2017
Moderator, "Spectrum Solutions on the Horizon for UASs," Interdrone 2017 Conference, Las Vegas, NV, September 6, 2017
Moderator, "Low Altitude UAS Cyber," ATCA's Aviation Cybersecurity Day 2017, Arlington, VA, June 23, 2017
Speaker, "Risk Mitigation Activities for Enabling UTM Operations," Risk Mitigation Activities for Enabling UTM Operations, Atlantic City, NJ, May 16-18, 2017
Speaker, "Accelerating Unmanned Systems Enablement," Satellite 2017, Explore the Connected Worlds Conference, Washington, D.C., March 7, 2017
Speaker, "Drones for Good," Nextgov's Tech & Tequila, Washington, D.C., February 23, 2017
Speaker, "Innovation," Silicon Flatirons Center Digital Broadband Migration Conference, Boulder, CO, February 12, 2017
Speaker, "Control, Payload, Tracking and Collision Avoidance: Spectrum Considerations," NASA UTM Convention 2016, Syracuse, NY, November 9, 2016
Speaker, "Spectrum for Unmanned Systems," at the Federal Communications Bar Association, Washington, D.C., November 7, 2016
Speaker, "Women Leaders Discuss UAV Policy," Women In Government Relations Event, Washington, D.C., October 18, 2016
Speaker, "Extending the Life (and Reach) of 4G Networks: Use Cases for Drones," CTIA Super Mobility 2016, Las Vegas, NV, September 8, 2016
Speaker, "Women in Drones," InterDrone 2016, Las Vegas, NV, September 8, 2016
Moderator, "The Spectrum Bottleneck," InterDrone 2016, Las Vegas, NV, September 7, 2016
Speaker, "Satisfying the Spectrum Needs of Small UAVs," InterDrone 2016, Las Vegas, NV, September 7, 2016
Speaker, Moderator and Host, "Spectrum Solutions for Small Low Altitude Drones," NASA UTM Spectrum Working Group, Mountain View, CA, August 25, 2016
Speaker, "Managing Low-Altitude Airspace for Safety and Privacy", Consumer Electronics Show, Las Vegas, NV, January 7, 2016
Speaker, NASA UTM 2015: The Next Era of Aviation Convention, Moffett Field, CA (July 28-30, 2015)
Speaker, "Legislative and Regulatory Update: How Can We Create a Sensible and Harmonized System for Small UAVs?," The Commercial UAV Show Asia 2015, June 30-July 1, 2015
Speaker, "Spectrum 101: What Does the Industry Need? What Will Regulators Require?," NextGen Drones 2015, Bethesda, MD, June 24, 2015
Speaker, Small Unmanned Systems Business Expo 2015, "United States Policy," April 29, 2015
Speaker, Silicon Flatirons – Exploring Governance Strategies for the Public Domain/Commons in Intellectual Property, Wireless Spectrum and Water Rights, "Managing The Commons in Wireless Spectrum," March 12, 2015
Speaker, Commercial UAV Show, London 2014 "United States Policy and the Small UAV Coalition," October, 2014
Speaker, Broadcast Education Association's 58th Annual Convention & 11th Annual Festival of Media Arts, "Spectrum Auctions – Dollars, Decisions and Dilemmas," April 28, 2014
Speaker, National EBS Association's Annual Conference, "Radically Remaking U.S. Schools and Education," February 17, 2014
Panelist, An Electric Grid for the 21st Century Conference, "The Opportunities of the Smart Grid and the Issues of Utility Incentives," March 13, 2013
Speaker, Mid-Course Workshop for Broadband Awardees: Accelerating Deployments and Driving Toward Sustainability Conference, "Evolving Policies & Implications for Broadband Awardees," October 4, 2011
Panelist, 2011 Broadband Properties Summit, "Wireless, Including 3G, 4G, WiFi, and the Risk and Responsibilities of Broadband Service Providers," April 26, 2011
Speaker, 4G World Conference – WCAI Wireless and Broadband Policy Summit, "Unleashing New Spectrum for Wireless Broadband," October 20, 2010
Speaker, 2010 Digital Policy Institute National Conference, "Broadband Plan Overview,"
October 14, 2010
Speaker, Wireless Broadband: Markets, Models and Spectrum Conference, "Wireless Broadband: Markets, Models and Spectrum – Public Policy Implications," September 8, 2010
Speaker, The Digital Policy Institute's Legal Impacts of the National Broadband Plan, "The National Broadband Plan: FCC Recommendations, Policy Proposals and Consequences for Legal Practitioners," March 26, 2010
Speaker, Argyle Executive Forum: 2010 Deal Making in Media & Telecom Conference, "Investor Roundtable," February 9, 2010
Speaker, Wireless Communications Association International Wireless Policy Summit, "The Role of Wireless in Universal Broadband Access," May 6, 2009
Speaker, Broadband Properties Summit 2009, "Who Is Eligible for the Additional Billions in Indirect Broadband Funds?," April 29, 2009
Panelist, Northern Virginia Technology Council Meeting, "Federal, State and Local Technology Priorities Inside the American Recovery and Reinvestment Act of 2009 (ARRA)," April 2, 2009
Speaker, National Educational Broadband Services Association's 2009 Annual Convention, "Spectrum Leasing, Version 2009," February 25, 2009
Speaker, Broadband Wireless @ Work for You, Changing the Way We Live, WCA's 14th Annual International Symposium and Business Expo, "Mobile Advertising and Privacy," November 6, 2008
Speaker, Digital Policy in the Information Age, National Digital Policy Institute, "Industry Trends: Broadband Wireless," October 3, 2008
Speaker, "Public Safety and Government Broadband, Advanced Wireless Technologies and the Road Ahead," August 27, 2008
Speaker, Silicon Flatirons Telecommunications Program, "Innovation, Intellectual Property, and Entrepreneurship in the Information Industries," March 4, 2008
Speaker, National ITFS Association's 2008 Annual Conference, "Excess Capacity Leases – Looking Forward," February 20, 2008
Honorary Chair, Second Annual Communications Law & Policy Symposium, Saturday, March 2007
Speaker, National ITFS Association's 2007 Annual Conference, "Leasing, Leasing, Leasing – The Legal Issues," February 2007
Speaker, Politics and Communications, hosted by the Institute for the Study of the Judiciary, Politics and the Media at Syracuse University, "What are the Current Political Broadcasting Regulations? What do the 2006 Elections Mean for Telecommunications, Internet and Technology?" November 2006.