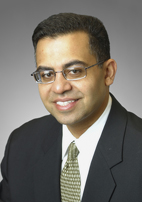 Prakash H. Mehta
Prakash H. Mehta
t

+1 212.872.7430

f

+1 212.872.1002
t

+1 202.887.4000

f

+1 202.887.4288
Prakash H. Mehta has over 20 years of experience working with asset managers, institutional investors and entrepreneurs, and manages several of the firm's key client relationships. He provides strategic legal, business and operational advice on high-profile, transactional and litigation matters for clients around the world including: private equity, hedge and credit fund sponsors; endowment, pension and sovereign wealth investors; investment banks and other financial institutions; and private and public companies. Mr. Mehta serves as a member of the firm's management committee and the co-leader of the firm's investment management practice group, spearheading a number of cutting-edge cross-practice group initiatives.
Practice & Background
Mr. Mehta regularly advises some of the most prominent fund sponsors, investment banks and institutional investors on all aspects of their business from capital raising and fund formation to implementation of their investment and other business strategies through complex transactions, and when problems arise through regulatory investigations and litigation. He also advises clients on manager-level transactions including seed arrangements, joint ventures and minority stake sales. Mr. Mehta's representation of a broad range of asset managers and institutional investors allows him to keep abreast of emerging trends in the alternative investment industry. This knowledge and experience is particularly valuable as convergence and consolidation across asset classes continues to play out in the marketplace.
On the deal side, Mr. Mehta provides strategic advice on private equity-style investments (minority and control), exit transactions (strategic sale, recapitalization and IPO) and other M&A transactions (joint ventures, stock and asset sales). He provides ongoing counseling on investor and portfolio company matters and serves as corporate counsel to public and private portfolio companies. Over the last year, Mr. Mehta has spent significant time advising funds on the restructuring of shale-play investments impacted by the volatility in the energy sector and on debt and equity investments in shipping assets around the world, in addition to Asian clients on U.S. inbound investments in a variety of sectors deemed attractive by virtue of the relative strength of the U.S. economy.
On the litigation side, since the Global Financial Crisis, Mr. Mehta's practice has come to include extensive involvement in investigations and formal dispute resolution both within and outside of the funds industry. Most recently, he has represented limited partner advisory boards with respect to "zombie fund" manager disputes and worked extensively on "funds divorce" matters involving fund principals and investors. Mr. Mehta has participated in internal investigations on behalf of emerging market companies and has handled numerous matters involving the World Bank's anti-corruption arm, or INT. He also counsels clients about cybersecurity related compliance and risk management.
Mr. Mehta is the leader of the firm's India and emerging markets practices and was instrumental in the formation of the firm's Hong Kong and Singapore offices. Mr. Mehta regularly gives presentations around the world, including most recently on topics such as "Cybersecurity – What Fund Managers and Investors Need to Know," "LP Advisory Board: Rules Of Engagement," "Hedge Fund Manager Investment Transactions – Key Considerations" and "Trends in Private Equity and Hedge Funds."
Mr. Mehta received his J.D. magna cum laude in 1994 from the Georgetown University Law Center, where he served as associate editor of The Georgetown Law Journal. He received his B.S.F.S. summa cum laude in 1991 from Georgetown University.
Community Involvement
Mr. Mehta is involved in numerous community, civic and charitable activities. Among others, he is an advisory council member for Columbia University's Committee for Global Thought and an advisory board member of the Emerging Markets Private Equity Association.
Awards & Accolades
Mr. Mehta has been recognized for his accomplishments in the investment management industry including:
Chambers USA: America's Leading Lawyers for Business (2008 through 2015)
The National Law Journal as one of the 50 Most Influential Minority Lawyers in America
Institutional Investor as one of 10 Rising Stars of Private Equity and M&A Law

The Who's Who Legal 100: Private Funds, 2014 and 2015.
Speaking Engagements
Participated in "Managed Accounts: Hot Topics and Pitfalls" webinar hosted by The Regulatory Fundamentals Group LLC
Regular panelist at the Emerging Market Private Equity Forum
Moderated Cybersecurity Policy Implications at "The Cybersecurity Pandemic" in New York, NY
Participated as a speaker at the United Nations High-Level Dialogue on Financing for Development
Participated in Practising Law Institute's Thirteenth Annual Private Equity Forum, in New York, NY
Spoke at the 14th Annual Global Private Equity Conference at the Fairmont in Washington, D.C.
Chaired session titled "Comparative roles of private equity, infrastructure funds, SWFs, commercial banks, ECAs, and multilaterals in project finance today"
Spoke on "Optimizing Market Trends and Opportunities After the Impact of the Global Financial Markets Crisis" at the Sixth Annual Investorside Research Conference at the Bloomberg Conference Center.