Dubai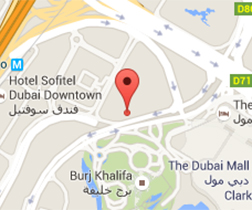 Boulevard Plaza
Tower Two, 23rd Floor
P.O. Box 120109
Dubai, United Arab Emirates
Email
dubaiinfo@akingump.com
t

+971 4.317.3000

f

+971 4.409.6850
Akin Gump resumed serving its clients from Dubai in 2014 to further expand its Middle East presence. The office particularly focuses on advising public and private sector clients in a range of practice areas in which the lawyers in our Dubai office have broad experience, including energy; oil and gas; antibribery; economic sanctions and other international trade controls; corporate; mergers & acquisitions; finance; public policy; investment funds; and dispute resolution, as well as construction and engineering, entertainment and other economic activity in the region.
Dubai is an international business hub that is strategically positioned as the business crossroads between Africa, Europe and Asia. The Dubai office furthers Akin Gump's commitment to place subject-matter experts on the ground where its clients are and also serves as a base to support the firm's expanding Africa practice.
The lawyers in our Dubai office include Arabic speakers to better serve our clients.
Practice Areas
Corporate
Our corporate lawyers assist clients in cross-border joint ventures, mergers and acquisitions, restructurings, divestitures, securities offerings, project financings, leveraged buyouts, capital markets transactions and international taxation. The lawyers in our Dubai office have significant experience throughout the MENA region with clients ranging from beginning stage companies to large, multinational corporations, as well as government-related and -affiliated entities, including sovereign wealth funds, authorities and regulatory agencies. These entities are active in key industry sectors, including energy, utilities, infrastructure, telecommunications and defense. The corporate team leads complex and sophisticated transactions, crossing borders and industries.
Energy
Our full-service energy law practice encompasses transactional and regulatory matters; conventional and renewable energy; and international upstream, midstream and downstream projects. Our clients include developers, financial institutions and sovereign states across the energy value chain from exploration and production companies to renewable energy investment funds. Our lawyers have extensive experience counseling clients on energy transactions internationally, including significant transactional experience on energy projects and joint ventures in the MENA region.
Global Investigations and Compliance
Our global investigations and compliance practice brings together firm lawyers who have deep substantive experience in specific industry sectors and lawyers with proven track records of leading important investigations. Our antibribery investigation and compliance lawyers represent clients on matters in which the FCPA, U.K. Bribery Act and other antibribery issues may arise. Our representations have included work on behalf of several U.A.E. and Gulf sovereign/state-owned entities, as well as global firms doing business in the EMEA region. Akin Gump represents aircraft and component manufacturers, foreign governments, defense contractors, investors and boards of directors on strategic advisory issues and transactional and government contracts matters; in litigation and arbitration matters; and before government agencies and other bodies on a host of regulatory and compliance issues.
International Arbitration and Dispute Resolution
Our lawyers are not only well-versed in the courtroom and arbitral tribunals, but we have also led some of the most high-profile investigations in the Middle East and North Africa (MENA) region, whether in anti-corruption or other white-collar matters, as well as routinely spearheading cross-border advocacy matters that span across multiple jurisdictions. Effective in U.S., English and MENA laws, we can provide global solutions to global problems for multinational businesses.
Our international arbitration offering in Dubai is part of our global arbitration practice. Our Dubai office draws teams from across Akin Gump's global network, including other experienced arbitration practitioners operating out of the firm's offices in the United States, London, Geneva, Moscow, Abu Dhabi and Hong Kong. We routinely counsel governments, corporate clients and high-net-worth individuals in a variety of commercial and investment treaty arbitration matters. We have a particularly strong track record of handling construction-related arbitrations in the region.
International Trade
We offer our clients an array of services designed to optimize their ability to engage in the cost-efficient and timely exchange of goods and services across borders, in full compliance with applicable laws and regulations. We are one of the few international law firms to have a dedicated international trade controls practice represented by a team of lawyers with on-the-ground capabilities throughout the U.A.E. and the MENA region. We advise on the regulatory and compliance aspects of all transactions with cross-border dimensions, including the extraterritorial application of U.S. export control laws, economic sanctions and a wide range of other trade compliance issues, as well as trade policy and WTO matters. In addition, our specialists have broad experience representing clients in all aspects of export controls, economic sanctions, FCPA and antibribery compliance, including the development of global compliance programs, the conduct of third-party due diligence and internal investigations.
Policy and Regulation
Akin Gump has an established regulatory practice in the U.A.E. that works in tandem with our international regulatory practice, and, as a result, we have a deep understanding of the developing regulatory sophistication of the local markets. Our lawyers have represented our clients' interests before various private and governmental agencies, and this experience gives us the skills and ability to understand the importance of a preplanned strategy with a commercial approach to ensure that we recognize all of the relevant legal issues up front and that our legal services run effectively and efficiently.
We offer clients an in-depth and proactive comparative analysis of legal and regulatory frameworks from around the world; develop comprehensive strategic and tactical plans to achieve specific objectives at all levels of government in the U.A.E. and internationally; directly advocate with government decision-makers, and form and coordinate professional teams to advance client objectives; legislative drafting and analysis; and legislative and oversight investigation, along with bespoke specialty services.
Project Finance
Our projects group has a wealth of experience advising governments, developers, borrowers, contractors, investors, Islamic finance institutions, export credit agencies, development finance institutions and commercial banks in relation to the development and financing of major projects. We have helped our clients win and complete some of the most significant deals to come to market across a wide range of sectors, including oil and gas, petrochemicals, power (including renewables), water and wastewater, infrastructure, and metals and mining.