New York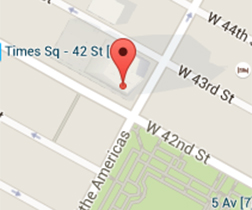 In 2018, our New York office celebrates its 25th anniversary. We are proud to share a short video on the office's history and tremendous growth.

Akin Gump has a strong and vibrant presence in New York with over 200 lawyers who represent investment funds, individuals, Fortune 500 companies and other global entities with their most important and sophisticated legal and business matters.
Our lawyers bring a diverse set of experience to an equally diverse client base. The commonality across all representations is in our approach: to serve as trusted advisors to our clients and deliver results. We act as outside general counsel to companies, lead complex transactions, advocate for our clients' interests in financial restructurings, try high-profile litigations, form innovative investment vehicles, and advise on an array of business matters.
Akin Gump New York is home to many of the firm's highly-ranked and recognized lawyers and practices.
Corporate
Akin Gump's corporate team counsels private equity and hedge funds, public and private companies, sovereign entities and financial advisors in connection with their transactional, finance and ongoing business needs. We regularly lead complex and sophisticated transactions, crossing borders and industries—including numerous heavily regulated industries. Our bank finance and capital markets lawyers counsel clients on all aspects of bank, bond and equity capital needs. We often work with our financial restructuring lawyers on chapter 11 and out-of-court restructurings, as well as on a variety of distressed transactions, including debtor-in-possession financings, spin-offs and divestitures.
We are recognized for our role in numerous headline-making transactions, including some of the largest recent transactions in the energy, financial services and telecommunications industries and consistently ranked by Corporate Board Member as one of the Top 20 national corporate law firms.
Financial Restructuring
Our financial restructuring practice has an international reputation for representing significant business entities with divergent interests, understanding the range of restructuring perspectives and devising creative solutions to provide our clients with the best possible results. The most significant component of our practice is the representation of official unsecured creditors' committees and informal groups of secured and unsecured creditors. We also have extensive experience representing secured lenders, debtor-in-possession lenders and agents for first and second lien lenders in both chapter 11 and out-of-court restructurings. In addition, Akin Gump has represented high-profile companies in their chapter 11 proceedings. By developing solutions to complex problems, bridging perceived differences between parties and incorporating a broad range of firm wide integrated resources, Akin Gump's financial restructuring group ranks among those in the most pre-eminent law firms to which leading organizations—creditors and debtors alike—turn when faced with troubling situations.
Investment Management
When forming or investing into a hedge or private equity fund, there is no substitute for industry knowledge, ingenuity, experience and global relationships.
Our investment management practice, comprising of nearly 100 lawyers, is a recognized leader in the representation of large institutional and entrepreneurial fund sponsors and managers in the formation of hedge and private equity funds. We have served as lead counsel to some of the world's premier investors and have helped them access opportunities in markets around the world. Through our representation of a broad range of investment managers and investors, we are able to attain proprietary insight on emerging trends in the private equity and hedge fund industries. This knowledge and experience is particularly valuable to clients as convergence across asset class continues to play out in the marketplace.
Litigation
Akin Gump New York's litigation practice is nationally recognized and includes a distinguished roster of former prosecutors from the U.S. Attorney's Office for the Southern and Eastern Districts of New York and the Securities and Exchange Commission. Our attorneys have extensive experience in all aspects of federal and state commercial litigation, as well as in matters of extraordinary complexity, including nationwide class actions, parallel civil and administrative proceedings, multidistrict litigation, arbitrations, criminal and regulatory proceedings, and matters involving complex procedural and discovery issues. We represent investment funds, Fortune 500 companies, creditor' committees, institutional investors, debtors and individual clients in high-profile cases, including significant trials in various courts around the country.
International Arbitration
Our international arbitration team in New York is part of our global arbitration practice. In close collaboration with other experienced international arbitration practitioners in our offices in London, Geneva, Washington D.C., Houston, Moscow, Abu Dhabi, Dubai and Hong Kong, the New York office acts on complex, high-stakes matters in arbitral fora all over the world. It routinely represents financial institutions, private equity funds, hedge funds and other clients in a variety of disputes.
Intellectual Property
The intellectual property lawyers in our New York office provide clients with strategic counsel in all aspects of IP litigation, particularly patent litigation, in federal courts throughout the country. They regularly represent some of the world's largest companies and have secured ground-breaking verdicts in high-stakes IP trials. They also handle complex transactional matters involving the licensing or transfer of IP rights, as well as counsel clients on the management of global IP portfolios.
Labor and Employment
Akin Gump's New York labor and employment practice represents clients in connection with their most complex and challenging matters, including nationwide wage and hour class and collective actions, class EEO and ERISA cases, high-profile arbitrations and complex labor controversies. We regularly represent companies, hedge funds and private equity firms, as well as senior executives and other senior personnel, in high-stakes employment matters, including disputes regarding terminations; claims over severance and change-in-control payments; claims under non-competition agreements, non-solicitation agreements, and other restrictive covenants; and claims alleging breach of the duty of loyalty, misappropriation of trade secrets, and other business torts. We are experienced in successfully defending cases arising under ERISA, including high-profile "stock drop" class actions and complex claims of fiduciary breach, claims alleging prohibited transactions, claims alleging interference with statutory rights, claims seeking benefits on behalf of allegedly misclassified workers, and Department of Labor investigations and litigation.
Tax
Our tax team offers multidisciplinary services in order to ensure that no consideration is neglected in even the most complex transactions. It is our philosophy that this inclusive, multidisciplinary approach offers our clients superior service and protection. The tax practice provides corporate and private investment fund clients with advice in the areas of domestic and international taxation, structuring of inbound and outbound multijurisdictional mergers and acquisitions, and complex multiparty international business transactions.
Our private client services practice provides customized legal and tax advice to help clients achieve their personal estate and tax planning goals. Benefits, compensation & employment is a vital part of our globally recognized tax practice. We represent a variety of clients, including investment funds, business entities, financial institutions, individual executives and individual and corporate trustees of employee benefit plans, on a full range of executive compensation and employee benefits issues.
Global Project Finance
Akin Gump is one of the world's leading law firms in the development and financing of energy and infrastructure projects. Lawyers in our global project finance practice work with project sponsors and developers, commercial and investment banks and other financial institutions, investors, manufacturers, technology companies, contractors, tribal governments, sovereign nations and other participants in the sector. Our depth in the energy sector includes traditional energy projects—including natural gas, coal, nuclear and other fuels—and renewable energy projects, such as wind, solar, geothermal, hydroelectric, landfill gas, biomass and biofuel. We also handle a wide variety of infrastructure projects, including industrial facilities, sports stadiums, roadways, ports and similar projects. We help our clients develop, finance, construct, operate, and buy and sell energy and infrastructure projects and companies throughout the world.