San Francisco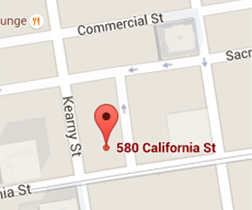 Our San Francisco office focuses on complex business litigation, including the defense of companies and individuals facing government investigations and enforcement actions, labor and employment litigation, insurance fraud and antitrust litigation. Our accomplished trial lawyers have handled numerous high-profile cases and have extensive knowledge of the local courts, judges and juries. This distinguished group of trial lawyers includes a fellow of the American College of Trial Lawyers, a former federal prosecutor and former law clerks to federal judges at the District Court and Court of Appeals. All partners and virtually all associates and counsel in the San Francisco office are experienced first chair jury trial lawyers, in part due to a trial program the office has with a local prosecutor's office.
Complex Commercial Litigation
Our San Francisco litigators combine in-depth regulatory knowledge, experienced trial skills and creative strategy in handling complex commercial business disputes. We have extensive experience with the litigation aspects of governmental enforcement, including representing clients in governmental investigations, regulatory proceedings and agency litigation concerning both competition law and consumer protection issues. Part of our regulatory approach is to position clients to avoid litigation when doing so would be to their advantage.
White Collar Defense and Government Investigations
The white collar criminal defense practice in our San Francisco office is ranked in the top tier by Chambers USA. As part of the firm's distinguished nationwide practice, our San Francisco team focuses on the defense of corporations and individuals facing allegations of antitrust violations; health care, securities, government contracts or tax fraud; money laundering; customs fraud and corruption. Composed of experienced former federal prosecutors, the practice has defended accounting firms, technology firms, overseas banks, health care professionals and numerous other corporations and individuals in connection with federal and state government investigations and charges, as well as related civil and administrative matters.
Fraud and Insurance Bad Faith Litigation
Faced with the unique regulatory environment in California, insurers can rely on Akin Gump's in-depth knowledge and experience in insurance regulations to navigate the complexities of a claims dispute and potential exposure. The San Francisco office represents insurers in actions for breach of contract and bad faith denial of claims and pursues remedies under the California Insurance Frauds Prevention Act for the submission of false and fraudulent claims. It also represents health care providers in actions brought against them under the California Insurance Frauds Prevention Act and the California False Claims Act. Further, our litigation team provides counseling to insurers' special investigative units on their reporting requirements to the California Department of Insurance. Our San Francisco team can leverage the experience of our national insurance practice, whose members have strong and diverse backgrounds as insurance regulatory officials, in-house counsel to major insurance holding companies and long-time counsel to insurance and reinsurance companies in complex transactions and disputes.
Labor and Employment
California, with some of the most stringent labor regulations in the country, has historically been a hotbed of employment litigation for local, national and international corporations. Our San Francisco lawyers defend Fortune 100 employers and industry leaders in nationwide wage and hour class actions, employment discrimination, employee classification, meal periods and rest breaks and other complex labor matters. The quality of our labor and employment lawyers and the collective depth of their knowledge in all areas of employment law have earned recognition by Law360, which rated the firm as one of the nation's "top employment law defense practices" and Chambers USA. While we often are involved in making new law and handling headline-grabbing cases, our abiding goal is to help each of our clients achieve the best possible outcome for their business, whether by early settlement or through trial and appeal.
Antitrust
Our antitrust practice draws on Akin Gump's diverse and wide-ranging assets and capabilities by combining lawyers who concentrate in the most complex areas of antitrust law with experienced trial lawyers, including former prosecutors and government officials; authorities in international trade regulation; respected figures in public law and policy; and sophisticated domestic and international transactional counsel. Working closely with practitioners throughout the firm, our San Francisco team has a broad-based antitrust litigation practice that includes prosecuting and defending antitrust lawsuits in federal and state courts throughout the country. We have handled virtually every type of antitrust proceeding, including cases involving mergers, vertical restraints, horizontal restraints, monopolization, predatory pricing and price discrimination. We have assisted clients with competitor vs. competitor litigation, consumer class actions, government enforcement actions and antitrust counterclaims.
Pro Bono
Exemplifying the firm's unequivocal dedication to the pro bono practice, Akin Gump's San Francisco office is deeply committed to the legal community and to the pro bono representation of individuals and nonprofit organizations in the San Francisco Bay Area. Our lawyers serve on numerous boards, including the San Francisco Legal Aid Society, San Francisco Museum and Historical Society, California Bar Foundation and Rubicon Programs, Inc. In addition, our lawyers have undertaken pro bono matters through the Bar Association of San Francisco Volunteer Legal Services Program, Bay Area Legal Aid, the Lawyers' Committee for Civil Rights and Legal Aid of the North Bay (Marin).