Washington, D.C.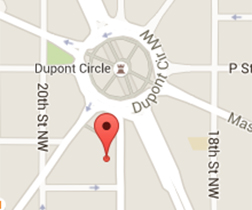 Robert S. Strauss Building
1333 New Hampshire Avenue, N.W.
Washington, DC 20036-1564
Email
washdcinfo@akingump.com
t

+1 202.887.4000

f

+1 202.887.4288
Akin Gump Strauss Hauer & Feld LLP's Washington, D.C. office was established in 1971 to capitalize on our strong governmental roots—it quickly became one of the preeminent firms in the nation's capital. Akin Gump's Washington lawyers and advisors are sought out by clients for their insight and advocacy on cutting-edge legal issues at the intersection of business, government and law. We leverage our unique understanding of economic and political infrastructure and firsthand, high-level government experience to help our clients access the global marketplace and compete around the world.
Operating in the very heart of the nation's political and legal systems, Washington, D.C., is our largest office, with all of the firm's diverse practices represented, including our very active and highly regarded litigation, appellate and Supreme Court, public law and policy, international trade, corporate, intellectual property, and labor and employment practices.
Litigation
Known for our creative strategies for winning at trial, Akin Gump's Washington, D.C. litigators possess industry-leading skills in litigating matters involving the application of government regulations to business, as well as in business-to-business disputes. We take pride in providing each client with the Akin Gump's trademark commitment, excellence and intensity. Our highly skilled, aggressive litigators routinely handle multifaceted, sophisticated matters, including representing a broad range of industries and Fortune 500 companies in complex commercial business disputes, handling white collar defense and investigations as well as corporate investigations, and representing clients through all phases of formation, administration and litigation of government contracts.
Corporate
Time and time again, Corporate Board Member has ranked Akin Gump as one of the nation's Top 20 national corporate law firms. Our Washington, D.C., corporate lawyers regularly counsel private equity and hedge funds, public and private companies, sovereign entities and financial advisors on transactional, finance and ongoing business matters. In doing so, we leverage the experience of practitioners across Akin Gump's full-service platform, including tax, ERISA, labor, environmental, antitrust, energy, regulatory and policy practitioners (when the business concerns of our clients intersect with government regulation). The corporate team leads complex and sophisticated transactions, crossing borders and industries—including numerous heavily regulated industries. Our finance and capital markets practitioners assist clients with all aspects of their bank, bond and equity capital needs. We frequently collaborate with our financial restructuring lawyers on chapter 11 and out-of-court restructurings, as well as on a variety of distressed transactions.
Intellectual Property
Akin Gump's Washington, D.C. intellectual property attorneys bring a wealth of knowledge of both the law and the technologies that are the foundation of our clients' core businesses. Many of our lawyers have advanced technical degrees, including in engineering, computer science, biology and chemistry. Our lawyers have extensive experience in all aspects of intellectual property litigation, including litigating complex patent cases in federal courts and before the International Trade Commission (ITC), as well as litigating trademark, copyright, trade secret and trade dress matters. Our extensive experience in patent, trademark, copyright, trade secret and Internet-related litigation extends throughout the broad spectrum of domestic and international proceedings, including international trade and Section 337 investigations.
International Trade
The mission of the international trade practice at Akin Gump is simple and clear: to optimize our clients' ability to engage in the cost-efficient and timely exchange of goods and services across borders, as permitted by law. Because we have shepherded companies and industries through the detailed trade regulatory processes countless times, we can simplify the complex substantive regulations and procedural timetables. Lawyers in our Washington, D.C. office represent and advise U.S. and foreign companies on a range of international trade policy concerns that intersect with their business interests. Our services include the following critical components: antidumping and countervailing duty litigation, customs laws, export controls and economic sanctions, antiboycott laws, WTO dispute resolution proceedings, other trade proceedings and trade policy. With our access to key decision-makers, we are able to provide timely communication and representations. Our lawyers and advisors assist clients with issues before the Office of the U.S. Trade Representative; the International Trade Commission; the departments of State, Treasury, Commerce and Justice; U.S. Customs and Border Protection; and other federal agencies and offices that deal with international trade regulation.
Labor and Employment
Recognized by Law360 as one of the nation's "top employment law defense practices," the firm's labor and employment practice group has been repeatedly recognized as having one of the nation's premier practices in the field. Our Washington, D.C. lawyers represent Fortune 100 employers in a wide range of their most complex and challenging labor and employment legal problems, including nationwide wage and hour class actions, employee classification, employment discrimination and EEOC matters, among other complex labor matters. While our lawyers often are involved in trying cases, making new law and handling headline-grabbing matters, our abiding goal is to help each of our clients achieve the best possible outcome, whether by early settlement or through trial and appeal.
Public Law and Policy
Consistently ranked as one of the top government relations practices in Washington, D.C.—both by publications and our peers—the public law and policy practice draws on the considerable governmental and bipartisan political experience of our lawyers and advocacy professionals, including former Members of Congress, congressional staff and other lawyers with considerable experience in government service, many of whom also engage in outside political activities. The multidisciplinary practice represents both domestic and international clients on matters pertaining to health, trade, American Indian, tax, cybersecurity, energy, environmental, financial services, communications and transportation policy, among others, and maintains a wealth of substantive relationships both at the federal level and state level. Clients also benefit from our leading congressional investigations and political compliance teams.
Policy and Regulation
The explosive growth of government regulation and oversight over the last decade demands that corporate leaders think expansively and creatively when developing and implementing business strategies. Because government has become a pervasive influence in virtually all private-sector activities, the analytical and planning process must encompass a careful evaluation of how government—local, state, federal or international—can, should and will impact desired objectives. Our regulatory lawyers and advisors—many of whom served in senior-level positions in presidential administrations or at government agencies—counsel clients on a broad range of issues impacting today's business environment, including antitrust and unfair competition, health care, energy, environment, communications and information technology, food and drug, privacy and data protection.
Supreme Court and Appellate
Appellate advocacy is an art. It demands an effective union of strategic analysis, careful research, creative writing and compelling oratory to influence judicial opinions and achieve the desired result. This blend of diverse skills is the trademark of Akin Gump's appellate practice and, by extension, our Supreme Court practice. Our appellate lawyers have argued more than 14 cases before the U.S. Supreme Court, briefed dozens more and engaged in appeals in the federal courts of appeals, state supreme courts and state courts of appeals.
Pro Bono
Akin Gump has a well-recognized tradition of pro bono legal work. The Washington office is committed to addressing the legal issues facing the community in which it operates. Our lawyers dedicate their time and resources to various charities and organizations such as Tahirih Justice Center, Washington Legal Clinic for the Homeless, Whitman-Walker and Human Rights First.
International Arbitration
Our international arbitration team in Washington, D.C., is part of our global arbitration practice. In close collaboration with other experienced international arbitration practitioners in our offices in London, Geneva, New York, Houston, Moscow, Abu Dhabi, Dubai and Hong Kong, the Washington, D.C., office acts on complex, high-stakes commercial arbitration and investment treaty arbitration matters. It routinely advises and represents both host governments and investors in investment protection and structuring, as well as throughout all phases of investment disputes, including award enforcement.