Daniel Lynch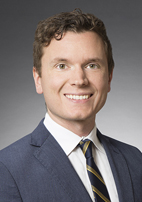 Daniel Lynch
Daniel Lynch
t

+1 310.728.3278

f

+1 310.229.1001
Dan Lynch is a member of the firm's global project finance group.
Mr. Lynch represents developers, commercial users, energy marketers, investors, financial institutions, utilities and other market participants in a wide range of energy transactions. His practice encompasses project finance and development, energy marketing and trading, renewable energy, and mergers and acquisitions.
Practice & Background
Mr. Lynch has experience with purchase and sale agreements, master agreements and credit support documents involving both physical and financial commodities. Mr. Lynch has advised clients in conventional and renewable energy projects related to solar, wind, biomass, electricity, natural gas, coal, renewable energy credits, biofuels, weather, and carbon capture and sequestration. Mr. Lynch also has experience with regulatory matters involving the California Public Utilities Commission.
Mr. Lynch is a regular contributor to the American Bar Association's Recent Developments in Public Utility, Communications and Transportation Industries annual publication.