Harry Keegan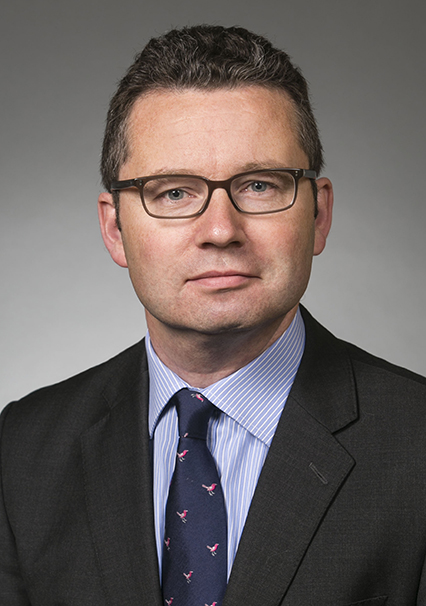 Harry Keegan
Harry Keegan
t

+44 20.7012.9658

f

+44 20.7012.9601
Harry Keegan is a partner based in Akin Gump's London office. Mr. Keegan's practice focuses on international mergers and acquisitions and capital markets transactions, with a particular emphasis on emerging markets.
Practice & Background
Mr. Keegan represents parties in international corporate finance transactions. He has considerable experience representing both issuers and underwriters in equity offerings and stock exchange listings. The issuers in these transactions operated in various industries, including oil & gas, mining, telecommunications, technology, manufacturing, biotechnology, nanotechnology and financial services.
Mr. Keegan has previously been seconded to two investment banks. He also advises issuers on continuing obligations and corporate governance issues and has spoken on specialist equity capital markets topics at London Stock Exchange conferences in the UK and Russia.
Mr. Keegan also has considerable experience in international mergers and acquisitions, joint ventures and private equity transactions, across a range of sectors, involving numerous countries including in Russia and CIS, Africa, the Middle-East, India Europe and North America.
Prior to joining Akin Gump, Mr. Keegan practiced for several years at a UK "magic circle" firm, where he acted on a number of substantial multi-jurisdictional, corporate and capital markets transactions.
Mr. Keegan received his B.A. in philosophy, politics and economics from Oxford University in 1994 and subsequently attended City University (Diploma in Law), the College of Law, London (Diploma in Legal Practice) and Bristol University (Diploma in European Human Rights Law). He was admitted as a solicitor in England and Wales in 1999.
Mr. Keegan was a member of the team that advised VimpelCom Ltd. one of the world's largest mobile telecommunications companies, in its US$25.7 billion acquisition of Wind Telecom for which Akin Gump won "Corporate Team of the Year" at the Legal Business Awards 2012 and "Emerging Markets Law Firm of the Year 2011" at the Financial Times Innovative Lawyers Awards.
Representative Matters
Mr. Keegan's recent engagements include representing:
Capital Markets
a U.S.-based global energy services company on a US$300 million IPO and premium listing on the main market of the London Stock Exchange
a Russian mining company on its US$1.5 billion IPO and listing of global depositary receipts on the London Stock Exchange
an investment bank on a series of London Stock Exchange main market and AIM transactions, including IPOs and private placements in a number of sectors (including energy, technology, retail and finance)
a Guernsey company with mining exploration assets in Guinea, West Africa on various transactions including its AIM IPO and pre-IPO fundraising rounds
the nomad/underwriters on the US$600 million AIM IPO of a Russian-based oil and gas E&P company
an AIM oil and gas E&P company with assets in Kazakhstan on various transactions including a US$85 million private placement and the restructuring of its convertible bonds
an investment fund listed on the Specialist Fund Market of the London Stock Exchange on a share buy-back by way of tender offer
a leading international telecommunications company on a tender offer for listed notes of US$320 million in principal amount
an English-based global logistics company on a US$800 million secured note offering
Mergers and Acquisitions and other corporate transactions
VimpelCom in its US$27.5 billion acquisition of Wind Telecom, comprising mobile communications assets in Italy, Pakistan, Bangladesh, Canada and North and Sub-Saharan Africa to create the sixth-largest global mobile telecommunications provider by number of subscribers with operations in 20 countries
a U.K.-based FTSE-250 industrials company on a series of acquisitions
a U.K.-based oil and gas exploration company, with assets in seven jurisdictions, on various transactions including a US$100 million private equity investment
a private equity-owned global chemicals company on its complex group reorganisation by way of scheme of arrangement, reduction of capital and share buy-backs, following a refinancing
a U.S.-based hedge fund on a subscription for convertible loan notes in a U.K.-based energy company
a U.S.-based private fund on a subscription for convertible loan notes in a U.K.-based biotechnology company
a major U.S.-based private equity firm on the acquisition of an Indian IT products and services company listed on the Bombay Stock Exchange
a leading U.S.-based private equity firm on the acquisition of a European-based renewable energy services business
a Korean conglomerate on a US$300 million Sharia compliant financing
a high net worth individual on the highly complex reorganisation of a major global portfolio of privately-held assets
Joint Ventures
three global investment banks and another party on a joint venture in respect of a government bond dealing business
a Russian media company on a major television broadcasting joint venture
WPP, a global media company, on a marketing/advertising joint venture in Egypt and Bahrain
a Russian property company on a development project joint venture
a Russian energy company on a complex joint venture
Awards & Accolades
Legal 500 UK 2017, recommended within Corporate: M&A and equity capital markets
Legal 500 UK 2016, recommended within private equity transactions
Legal 500 UK 2015, recommended within equity capital markets
Legal 500 UK 2014, recommended within equity capital markets and private equity transactions
Legal 500 UK 2013, recommended within equity capital markets: "Harry Keegan 'stands out as being particularly helpful, knowledgeable and responsive'"
Legal 500 UK 2012, recommended within equity capital markets
Mr. Keegan was a member of the team that advised VimpelCom in its US$25.7 billion acquisition of Wind Telecom for which Akin Gump won "Corporate Team of the Year" at the Legal Business Awards 2012 and "Emerging Markets Law Firm of the Year" at the Financial Times Innovative Lawyers Awards 2011