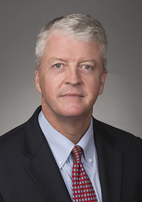 Sean G. D'Arcy
Sean G. D'Arcy
t

+1 202.887.4291

f

+1 202.887.4288
Sean G. D'Arcy represents clients on a variety of legislative, regulatory and investigative matters, focusing on financial services, health care, trade, tax and procurement issues.
Practice & Background
Prior to joining Akin Gump in 1993, Mr. D'Arcy was counsel to Rep. Donald J. Pease (D-OH) who served on the Ways and Means and Budget committees. During law school, Mr. D'Arcy interned for Reps. Michael A. Andrews (D-TX) and Joseph D. Early (D-MA). He also served as a staff assistant in the Office of Chief Staff Counsel of the U.S. Court of Appeals for the District of Columbia Circuit.
Mr. D'Arcy remains active in national Democratic politics. Most recently, he ran get-out-the-vote operations in a number of northeast Ohio counties for President Obama's and Sen. Sherrod Brown's (D-OH) re-election campaigns. He performed similar duties for the Obama campaign in 2008 and participated in Sen. Brown's (D-OH) successful election campaign in 2006. In 2004, Mr. D'Arcy served as the senior advisor in Summit County, Ohio, for Sen. John Kerry's (D-MA) presidential campaign.
Mr. D'Arcy received his J.D. in 1991 from the Catholic University of America, where he was a senior staff member of the Journal of Contemporary Health Law and Policy and a member of the Thurgood Marshall American Inn of Court.