2013 was another remarkable year in the Eagle Ford. Whereas five years ago few had heard of it, today the Eagle Ford is one of the largest oilfields in the United States. What is most exciting is that the play is just beginning to develop. The Railroad Commission of Texas has issued a total of 4,416 permits for wells through 2013 yet a study conducted by the University of Texas in San Antonio forecasts that there will be a total of 24,363 wells in the Eagle Ford Shale by 2022.
The first of the Eagle Ford wells was drilled in 2008 by Petrohawk in La Salle County and flowed at a rate of 7.6 million cubic feet of gas per day. Today the Eagle Ford has swiftly grown to 22 active fields across 26 Texas counties, heavily impacting Texas and the energy field at large. Anadarko, for example, was just one of the producers who saw boosted volumes in 2013 with help from the Texas play, achieving record U.S. onshore sales volumes.1
The Eagle Ford continues to grow in natural gas, oil and condensate production. Natural gas production from January to October of 2013 increased 27% compared with all of 2012.2 The Eagle Ford has reached an average of 3,239 MMcf per day for January-October of 2013 compared to original natural gas production in 2008 of 2 MMcf. Oil production has currently increased by 65% since 2012. The average oil production in 2012 was 400,377 barrels per day, increasing to an average of 659,092 for January to October of 2013. Condensate production also increased by 19% since 2012, reaching 186,719 Bbl per day for the January-October period of 2013.
The Eagle Ford currently supports 22 active fields across 26 Texas counties. The top two highest producing oil fields thru September 2013, Eagle Ford – 1 and Eagle Ford - 2 are in Karnes County. These are followed by the Briscoe Ranch in Dimmit County. The Briscoe Ranch field is also the leader in gas production followed by the Hawkville field in La Salle County.
Transactions
In 2013, the Eagle Ford saw transactions totaling more than $1.7 billion and major players are continuing to work to get a foothold in the Eagle Ford. Devon Energy Corp., for example, announced in November that it is buying GeoSouthern Energy's assets in the Eagle Ford, paying $6 billion in cash. The assets included 82,000 net leasehold acres producing roughly 53,000 barrels a day and estimated reserves of 400 million barrels. Most of the acreage is in DeWitt County where some of the most productive wells in the Eagle Ford are located. In addition, Penn Virginia recently announced the sale of its natural gas midstream assets in the Eagle Ford to an affiliate of ArcLight Capital Partners for $100 million. The sale includes gas gathering assets, 119 miles of pipelines and associated facilities in Gonzalez and Lavaca counties.
ConocoPhillips, Chesapeake Energy and EOG Resources are three notable companies that fared well in the Eagle Ford in 2013. ConocoPhillips (holding approximately 227,000 net acres in the play) saw a 66% production increase to 126,000 barrels of oil equivalent per day. Similarly, Chesapeake Energy saw an 82% production increase to 95,000 barrels of oil equivalent. EOG Resources, the top producer in the play, saw a 39% production growth. Other major operators in the Eagle Ford include Apache, Atlas, Lewis Petro, Pioneer, SM Energy and XTO.
Growing Infrastructure
In the past six years the midstream sector has made twice the capital investment made in the previous 14 years. The following are recent infrastructure activities in the area:
Railroad development has picked up across South Texas as developers open or expand railroad projects in Three Rivers, Encinal and Cotulla counties.
In order to service Eagle Ford Shale clients, Louisville-based ISCO Industries Inc. has opened a facility in Pleasanton, TX. The company supplies and fabricates high-density polyethylene pipe products. Houston-based FlexSteel Pipeline Technologies Inc. has also opened a service center in Pleasanton to support the Eagle Ford with technical and field services staff as well as an inventory of pipe and installation equipment.
In November an affiliate of Houston-based NET Midstream LLC received approval from the Federal Energy Regulatory Commission to build and run a pipeline delivering Eagle Ford Shale natural gas to Mexico, scheduled for completion in October of 2014. NET Mexico Pipeline Partners LLC has a long-term agreement to transport 2.1 billion cubic feet of gas per day. The project includes a 120-mile pipeline from the Agua Dulce hub in Nueces County to a point near Starr County's Rio Grande City where transportation across the border would occur via additional pipeline.
The City of Cotulla, TX, which houses operations for Chesapeake Energy Corp., EOG Resources Inc. and other big energy players, began a $9 million expansion of its Cotulla-LaSalle County Airport. The expansion will add 6,005 feet of runway space, a parallel taxiway and additional parking in order to facilitate people coming in to check on their operations.
2014 Capital Plans
Several companies have announced their intentions to increase spending in the Eagle Ford in 2014. Among these is Houston-based Plains All American Pipeline. Plains announced it intends to spend $120 million on infrastructure projects in the Eagle Ford Shale. Plains is also expanding its existing condensate stabilization facility servicing the play to provide approximately 40,000 barrels per day of capacity bringing the total capacity to 120,000 barrels per day. Australia-based AWE Ltd. announced it will double its activity in the area in 2014, planning to drill up to 110 new wells. Eagleford Energy Inc. and Stratex Oil Gas Holdings Inc. announced they will jointly explore and develop the resources on the 2,600- acre Matthews Lease located in Zavala County. Houston-based Marathon Oil also says that it plans to boost its Eagle Ford activity by 20% in 2014.
The Eagle Ford is seeing rapid growth, and as the production numbers continue to improve the area is transforming to accommodate oil and gas operations. Palo Alto College in San Antonio, for example, is now offering an associate degree program in oil and gas technology. The program was developed with the help of industry partners in order to meet their needs. This is just one example of how the area is developing itself to meet the needs of the Eagle Ford Shale Play and how collaboration between infrastructure providers, operators and the greater community bodes well for the future.
Wells Completed and Permitted in the Eagle Ford Shale Play 11/04/2013 map provided by the Railroad Commission of Texas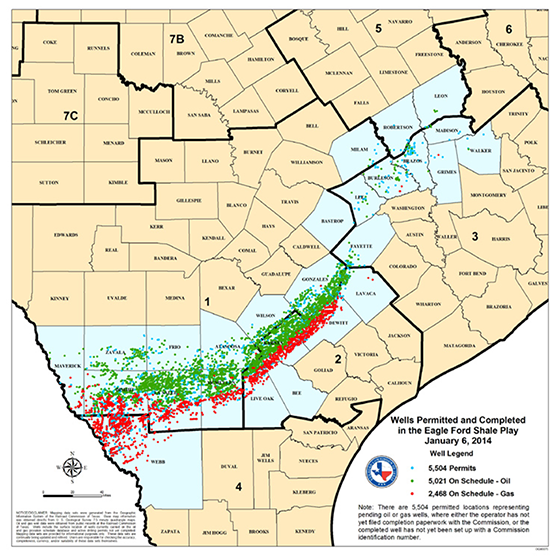 ---
1 http://www.anadarko.com/SiteCollectionDocuments/PDF/Earnings%20Release/
APC%203Q13%20Earnings%2011-4-13.pdf
2 http://www.rrc.state.tx.us/eagleford/EagleFordGWGProduction.pdf