Michael Nasser Petegorsky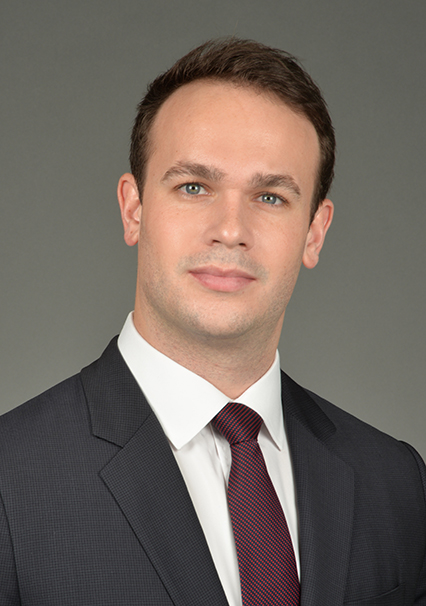 Michael Nasser Petegorsky
Michael Nasser Petegorsky
t

+1 212.872.7461

f

+1 212.872.1002
Michael Petegorsky is an associate in the firm's intellectual property litigation practice, where he focuses primarily on patent litigation.
Practice & Background
Mr. Petegorsky's practice covers a broad array of technologies in district court litigation and before the Patent Trial and Appeal Board. He has represented companies in patent cases involving consumer products and pharmaceuticals, as well as copyright and trade secret cases.
Mr. Petegorsky received his J.D. from Fordham University School of Law in 2014. At Fordham Law, he served as an associate editor of the Fordham Law Review, a competitor and coach on the Fordham Moot Court team, and a teaching assistant in the Legal Writing department.
Mr. Petegorsky also maintains an active pro bono practice, including the successful representation of a Central American domestic violence victim in removal proceedings before a Texas Immigration Court.
Representative Matters
Albert Corporation v. Openfolio Corporation (S.D.N.Y.) – Counsel for counterclaim-plaintiff Openfolio in a breach of contract, unfair competition, copyright infringement, and misappropriation of trade secrets litigation concerning websites and applications for managing personal financial portfolios. Client Openfolio's counterclaims were among the first brought under the Defend Trade Secrets Act of 2016. The case settled favorably for our client after we filed an early, targeted dispositive motion.
Defending a leading telecommunications company in a patent infringement suit involving mobile navigation systems in the District of Delaware.
Defending an innovative pharmaceutical company in a patent infringement litigation over antibody therapies in the District of Delaware.
Ultratec, Inc. and CapTel, Inc. Sorenson Communications, Inc. and CaptionCall, LLC (W.D.Wis.): Represent defendants Sorenson and CaptionCall in multiple district court patent infringement cases concerning telecommunication systems and devices for the hearing impaired.
CaptionCall, L.L.C. Ultratec, Inc. (PTAB): Represent petitioner CaptionCall in multiple inter partes review proceedings over patents concerning telecommunication systems and devices for the hearing impaired.
Defending a major consumer electronics company in patent litigation related to digital imaging technology in the Eastern District of Texas.
Defending a professional sports franchise in a class action lawsuit under the Telephone Consumer Protection Act (TCPA).
Speaking Engagement
Presenter, "Case Law Still Buffering: Intellectual Property Issues in Film & Interactive Media," CLE Seminar, Santa Monica, CA (June 23, 2016)