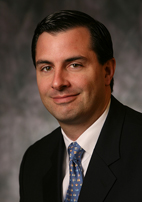 David D'Urso
David D'Urso
t

+1 212.872.1010

f

+1 212.872.1002
David J. D'Urso, a partner resident in Akin Gump's New York office, represents private equity sponsors, lenders and portfolio companies in a wide variety of public and private transactions, including leveraged acquisitions, growth equity investments, PIPE transactions, debt financings and restructurings.
Practice & Background
Mr. D'Urso advises on matters relating to corporate governance, management compensation, follow-on acquisitions, recapitalizations, securities offerings and liquidity and exit events.
Mr. D'Urso received his B.A. in political science and Italian language and literature in 1992 from Binghamton University with "Outstanding Academic Performance," his M.A. in international relations in 1995 from St. John's University and his J.D. in 1996 from Case Western Reserve University.
He is a frequent speaker at various high-caliber corporate events including most recently, a Cornell University presentation regarding the future of "green" investing, the Corporate Board Member Magazine's Annual Boardroom Summit where he spoke about the use of purchase price earn-outs in the current dealmaking economy and a mergermarket forum, during which he discussed key private equity deal terms. He is a member of the New York Bar.
Representative Matters
Mr. D'Urso's recent representations include:
the acquisition and related financing of a specialty finance merchant funding lender
warehouse financing for, and equity investment in, a commercial mortgage lender
"back door" IPO of a regional home-builder and related debt financing
the acquisition of a national kosher food manufacturer and distributor
the acquisition and related financing of a national newspaper publisher
the acquisition and related financing of a for profit education provider
the sale of the entire Southeast division of the consumer food distribution operations of a public company
the acquisition and related financing of an online education-referral provider and multiple subsequent add-on acquisitions
the recapitalization of a national fitness operating company through the purchase of all of the portfolio company's outstanding first lien indebtedness
the sale of a sponsor's entire Latin American investment portfolio to a fund of funds in the secondary market
the acquisition and related financing of an advertising and marketing company, three subsequent add-on acquisitions and the senior secured financings associated with such transactions
investment in convertible preferred stock of a public ethanol production company
the acquisition of the global VSAT satellite assets of a division of a public telecommunications company
the first and second lien secured financing of the acquisition of an international aluminum engine parts manufacturer
the acquisition of a controlling interest in a west coast newspaper and television company in connection with the conversion of senior secured debt
the acquisition of a Las Vegas home builder in connection with the conversion of senior secured debt
restructuring of a magazine publisher resulting in the conversion of a significant portion of the company's public debt into all of the equity of the company.