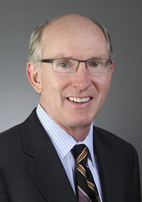 Kevin G. McBride
Kevin G. McBride
t

+1 949.885.4200

f

+1 949.885.4101
Kevin G. McBride is a member of the firm's intellectual property practice primarily focusing on patent and intellectual property litigation. He represents leading technology and consumer electronics companies, software developers, semiconductor manufacturers, digital television broadcasters, media and entertainment companies, cellular phone manufacturers, medical device companies and automobile manufacturers.
Practice & Background
Mr. McBride has achieved successful results as lead counsel in more than 60 patent cases in the past 10 years. His litigation experience spans a wide range of technologies including software, semiconductors, computing devices, smart cards, encryption, satellite controls and television and other digital signal processing.
Mr. McBride has a nationwide litigation practice. He represents clients before the U.S. district courts, the U.S. Court of Appeals for the Federal Circuit, the U.S. Supreme Court and the International Trade Commission.
Mr. McBride is admitted to practice in the state courts of California and Illinois and before the U.S. District Courts for the Central, Southern and Northern Districts of California, the U.S. District Court for the Northern District of Illinois, the U.S. District Court for the Eastern District of Texas, the courts of appeals for the 7th and Federal circuits, and other federal district courts.
Mr. McBride earned his J.D. cum laude from Northwestern University, where he was also on the staff of the Northwestern University Law Review. He received his M.S. in environmental engineering from the University of California, Davis, and his B.S. in civil engineering from the University of Notre Dame, where he was a member of both the Chi Epsilon and Tau Beta Pi engineering honor societies.
He is a member of the Advisory Council for the Institute for Latino Studies at the University of Notre Dame.
Representative Matters
Mr. McBride's recent engagements include:
defense of a digital television service provider in multiple patent infringement actions and appeals involving various aspects of direct broadcast satellite television technology, including uplink signal processing and a wide range of set top box functionalities
representation of a consumer electronics company in multiple patent infringement actions over various technologies incorporated in digital televisions including audio and video processing, demodulation techniques and user interfaces
defense of a satellite manufacturer in a trade secrets action over the conception of, and technology for, a satellite rescue by means of a lunar fly-by
defense of an aerospace manufacturer in connection with a charge of patent infringement involving satellite attitude and position control technology for communications satellites
defense of multiple defendant groups in the then-largest multidistrict patent litigation, the cases involved technology relating to interactive voice response systems
defense of an automotive company in a patent infringement case involving patents directed to electronic parts catalogs and software for preparation of customized product literature
defense of a manufacturer of diagnostic testing systems and supplies in a patent infringement action related to computerized sales systems
defense of an automotive company in an action for patent infringement, unfair competition and other state law claims concerning an apparatus used on automobile lifts
representation of a medical device company in several patent infringement actions concerning automatic electronic defibrillator technology
representation of a wireless telephone company and a semiconductor manufacturer in a patent infringement lawsuit involving 11 semiconductor product, packaging and process patents covering microchip fabrication and circuitry technology
representation of a specialty chemical manufacturer in asserting trade secret theft allegations against a former employee and a competitor involving liquid petroleum dye technology
representation of a heavy machinery manufacturer by obtaining an order for U.S. marshals to seize defendant's bulldozers bearing counterfeit trademarks
representation of a food manufacturer in several trademark and trade dress matters
defense of a novelty company regarding charges of trade dress and copyright infringement
defense of a digital broadcasting company in an ITC investigation seeking exclusion of certain products from importation into the United States
Awards & Accolades
Mr. McBride has received a number of awards and accolades, including:
recognition by Best Lawyers in America for Patent Litigation in 2013 – 2016
recognition by Super Lawyers Business Edition for IP Litigation in 2013
being named one of the "Angelenos to Know in Intellectual Property Law" by the Los Angeles Business Journal's "Who's Who in L.A. Law" 2012
being named one of the "75 Leading IP Litigators" in California by the Daily Journal in 2011
consistent acknowledgement in Southern California Super Lawyers.
recipient of the University of Notre Dame Award of the Year by the Notre Dame Club of Los Angeles in 2005
Speaking Engagements
"Avoid the Warning Track . . . Guiding Your Company in Crisis Management and Protecting its IP Assets," ACCA-SoCal DoubleHeader, Los Angeles, CA, September 25, 2007
"The Trouble With Trolls," Los Angeles Intellectual Property Law Association, Spring Seminar Laguna Niguel, California, June 9, 2007
"An IP Due Diligence Checklist," Licensing Executives Society Annual Meeting, 1999
"Controlling Costs in IP Litigation," Licensing Executives Society Annual Meeting, 1998
"Customs Detention of Copyrighted Goods/Is Detention Valid?" ABA Annual Meeting, 1992.