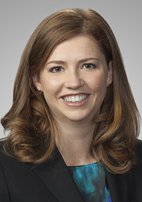 Michelle A. Reed
Michelle A. Reed
t

+1 214.969.2713

f

+1 214.969.4343
Michelle Reed's practice focuses on complex civil litigation matters, with an emphasis on representing public companies and their officers and directors in securities and privacy litigation, internal and regulatory investigations and enforcement proceedings.
Practice & Background
Ms. Reed handles a variety of complex civil litigation matters, including securities litigation in federal and state courts where she represents public companies, officers and directors in securities class actions, derivative lawsuits, M&A litigation, and adversary proceedings. She has defended allegations of accounting and financial fraud, insider trading, investment fund / advisor fraud, and FCPA violations. Ms. Reed also represents companies and company insiders in investigations and enforcement actions by the SEC, FINRA, and the CFTC. She works closely with D&O insurance carriers to keep them advised with respect to such matters.
Ms. Reed's practice additionally encompasses a range of other litigation matters, including privacy and cybersecurity, energy, breach of contract, breach of fiduciary duty, business fraud and other business tort matters. Her practice includes counseling corporations from a litigation perspective about their corporate compliance programs, D&O insurance programs, cybersecurity, privacy and risk assessments, and policy/procedure development.
Ms. Reed received her B.A. with honors in economics and political science in 1999 and her J.D. summa cum laude in 2003 from Brigham Young University, where she was a member of the Order of the Coif and the executive editor of the BYU Law Review.
Ms. Reed is a member of the State Bar of Texas, the American Bar Association, and its Litigation Section (Class Actions and Derivative Suits and Securities Litigation Committees), and the Bar Association of the Fifth Federal Circuit. She currently serves as co-chair of the Derivative Suits Subcommittee of the American Bar Association's Class Actions and Derivative Suits Committee. Ms. Reed is a Certified Privacy Professional (CIPP/US) with the International Association of Privacy Professionals.
Representative Matters
Ms. Reed's recent engagements include:
Representing online retailer in data breach affecting 50 different states and 16 countries, assisting with forensic investigation, customer notification and call center management, state regulatory negotiations, discussions with PCI-DSS council and payment card issuers, and public relations communications
representing one of the largest clearing firms in the nation in securities class action and shareholder derivative actions pending in Texas federal court and Texas state court
obtaining and confirming favorable arbitration award for oil and gas exploration company in purchase and sale agreement dispute
representing a California-based company in assessing privacy and data security requirements across 50 U.S. states and Canada
representing the CFO of a large mid-stream oil and gas services company in multiple securities fraud class actions, bankruptcy adversary proceedings, and parallel SEC and Commodity Futures Trading Commission (CFTC) investigations in New York, Oklahoma, and Delaware
defending an Ohio-based manufacturing company in a securities class action alleging accounting and disclosure violations, resulting in a complete dismissal of all claims
representing investment funds and their manager in SEC investigations regarding trading practices and suitability analysis
successfully defending the former CEO of a software company accused of self-dealing and a breach of fiduciary duty in connection with a multi-million dollar merger
obtaining a fee advancement in an expedited Delaware proceeding and successfully defending a securities class action, derivative suit and SEC enforcement action against the former President and CEO of a technology company that arose from multi-year restatement of financials
representing a senior executive of an energy infrastructure services company in a Foreign Corrupt Practices Act investigation by the SEC
representing a young e-commerce company and successfully opposed class certification on grounds that the stock did not trade in an efficient market, and, therefore, plaintiff could not invoke the fraud-on-the market presumption of reliance. Although the company traded on the NASDAQ, the 5th Circuit affirmed this novel argument against class certification.
representing a computer storage device company and its officers and directors in a case alleging that the company improperly accounted for inventory reserves and which sought over $800 million in damages. The district court granted our motion for summary judgment and the 5th Circuit affirmed.
representing the independent directors of a 1940 Act company in a securities class action, obtaining dismissal of the class action with prejudice
representing an investment management firm in an internal investigation related to forecasting, accounting, and investments into a medical supply company
representing a retailer with over a half a billion dollars in annual sales in all phases of an unauthorized intrusion into its network, interfacing with the FBI and identifying internal control improvements.
Community Involvement
Ms. Reed's community, civic and charitable activities include being a:
founder of the Children's Education Rights Project (CHERP) and the Medical-Legal Partnership for Children/Dallas at Children's Medical Center in Dallas, which focuses on special education rights of children with serious medical conditions
liaison for the South Texas Pro Bono Asylum Representation Project (ProBAR), a national effort to provide pro bono legal services to asylum seekers detained in South Texas by the United States government
Member, State Bar of Texas Standing Committee on Legal Services to the Poor in Civil Matters.
member of the Texas Bar Association Pro Bono College
member of the J. Reuben Clark Law Society
former board member of the Travis County Women Lawyers Association
co-founder of the Austin Young Lawyers Association Domestic Violence Project, which has been awarded best statewide public service project by the Texas Bar Association
member and volunteer of the Women's Advocacy Project, a statewide nonprofit that promotes access to justice for Texas women and children who are victims of domestic violence and child abuse
alumnus of the Texas State Bar Association Leadership Conference
former Co-Chair of the Best Practices Subcommittee of Dallas Bar Association Pro Bono Committee.
Awards & Accolades
Recognized in a peer-review survey as a "Texas Rising Star" in securities litigation by Texas Monthly in 2006, 2010-2013
Received the Frank Scurlock Award for Outstanding Pro Bono Service from the State Bar of Texas
Certified as a Certified Information Privacy Professional / United States (CIPP/US), International Association of Privacy Professionals, 2013
Speaking Engagements
"Cybersecurity: Risks and Best Practices for Medical Device Makers," MDMA Webcast, March 25, 2015 (panelist)
"Cybersecurity Risk Management and Due Diligence," Akin Gump's seminar on The Cybersecurity Pandemic, November 5, 2014 (panelist)
"Fraud-on-the-Market Theory: Significant Issues and Updates for 2014 and Beyond," The Knowledge Congress Live Webcast, August 7, 2014 (panelist)
"Five Cybersecurity Mistakes that Could Result in Prosecution," Akin Gump In-House Counsel CLE, October 17, 2013 (Houston), September 10, 2013 (Dallas)
"Developing or Refreshing a Pro Bono Program for Volunteer Attorneys in the Private Bar" moderated by Texas Supreme Court Justice Hecht, Texas Poverty Law Conference, April 3, 2013 (panelist)
"Doing Well by Doing Good: Careers and Pro Bono Opportunities in Immigration Law," ABA Midyear Meeting, February 7, 2013 (panelist)
"Strict Liability? D&O Risk Assessment Post-Dodd Frank," Akin Gump In-House Counsel CLE, September 21, 2011
"To Secure the Blessings of Liberty: In-House Counsel for Non-Profits," J. Reuben Clark Society National Conference, February 18, 2011 (moderator)
"MLP and Pro Bono: A Team Perspective," National Medical-Legal Partnership Conference, March 26, 2012 (panelist).