Robert William Aulsebrook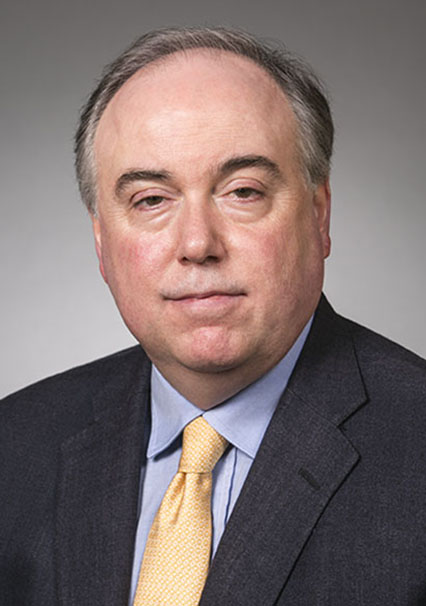 Robert William Aulsebrook
Robert William Aulsebrook
Robert W. Aulsebrook is head of the international finance group and a partner in the London office, who focuses on international debt finance, capital markets and derivatives. He advises corporate borrowers, lenders, investment funds, investment fund managers, corporate investors, high-net-worth individuals and other market parties on a wide variety of finance and derivatives issues in the London market.
Practice & Background
Mr. Aulsebrook advises borrowers and lenders on terms of primary market loans, loan participations and secondary market trading of debt. He acts for issuers and purchasers of equity and debt instruments, depository receipts, Eurobonds, convertible debt securities and commercial paper.
He advises on the creation and structure of debt instruments, swaps and derivatives, securities loans, repos, futures and options, and other financial market instruments, as well as prime brokerage terms. He also advises on related U.K. regulatory issues, including client money protection and asset custody requirements.
He advises extensively on financing and investment in Russia and elsewhere in the Commonwealth of Independent States.
Mr. Aulsebrook received his B.A. magna cum laude in economics and Russian from Vanderbilt University in 1986 and his J.D. cum laude from the Georgetown University Law Center in 1989. He was admitted as a solicitor of England and Wales in 1999. He is also a member of the New York State Bar.
Representative Matters
advising LUKOIL on a US$500 million revolving credit facility arranged by The Bank of Tokyo-Mitsubishi UFJ, Ltd., Citibank N.A., AO Raiffeisenbank, Raiffeisenbank International AG, Sumitomo Mitsui Banking Corporation Europe Limited and UniCredit S.p.A.
advising LUKOIL subsidiary, Lukinter Finance B.V. on a US$300 million revolving credit facility with ING Bank
advising LUKOIL on a US$500 million financing for the Gissar gas field in Uzbekistan
advising LUKOIL International Finance B.V. PJSC "LUKOIL" on a Rule 144A/Regulation S offering of $1 billion, 10 year 4.750% notes by LUKOIL International Finance B.V. and guaranteed by PJSC "LUKOIL"
Awards & Accolades
Chambers UK 2018, recommended in Banking & Finance, Robert Aulsebrook is praised by clients for his "good commercial sense" and because "he is usually able and willing to offer a solution rather than just advice about what is and isn't legal."
Chambers UK 2017, recommended in Banking & Finance."Robert is an experienced finance lawyer with extensive knowledge of different financing techniques. He combines strong technical skills with commercial common sense, helping us to focus on the most important issues."
Legal 500 UK 2013 - 2017, Bank Lending; Debt Capital Markets and Emerging Markets, recognizes Mr Aulsebrook for his "ability to provide top-quality service on a wide range of financing transactions". Clients say that he is 'one of the "best in the City for Russian deals."'
Who's Who Legal: Energy 2017 recognizes Mr. Aulsebrook as being among the world's leading energy lawyers
Languages
Russian